Emory's Purchase of Executive Park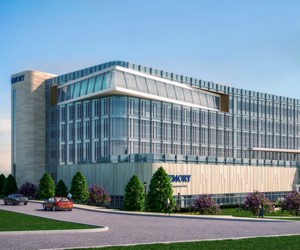 Executive Park
In the spring of 2016, Emory announced the purchase of approximately 60 acres of property at Executive Park, located near the interchange of North Druid Hills Road and I-85. In 2019, Emory purchased an additional five acres at Executive Park. 
Executive Park provides a unique opportunity for Emory to create a live-work-play health innovation district focused on supporting a connected community and workplace of the future. Emory serves the community and advances the future of health care through community partnerships, patient-focused care, and innovative research. 
Our plan will be phased in over the next 15 years or more. 
Learn more about Emory's plans at Executive Park.
Projects of Note at Executive Park
Brain Health Center
Unlike any other health care system in the country, Emory Healthcare combines neurology, psychiatry and behavioral sciences, neurosurgery, rehabilitation medicine, and sleep medicine to offer complete coordinated care for disorders of the brain. Bringing these specialties together allows more than 400 researchers and clinicians from different areas to work in collaboration to more rapidly predict, prevent, treat, and cure devastating diseases or disorders of the brain. These unique collaborations are demonstrated in some of the more than 20 centers and programs within the Brain Health Center at Executive Park.
Musculoskeletal Clinic
To support the growing demand for musculoskeletal services, Emory Orthopaedics and Spine Center is building a six-story, 150,000–180,000-square-foot musculoskeletal center replacement facility. The new, modern facility will provide clinical and translational research space. 
The musculoskeletal center will be a multidisciplinary and highly collaborative one-stop-shop for all musculoskeletal services and will include 117 patient exam rooms; imaging, ambulatory surgery, and physical therapy services on the lower floors; clinic space on the building's middle floors; and an upper-level housing the center's research initiatives. 
Falcons Training and Sports Medicine Center
Emory Healthcare and the Atlanta Hawks Basketball Club partnered to build a first-of-its-kind training and sports medicine center at Executive Park adjacent to the Musculoskeletal Clinic. Staffed by Emory Healthcare's world-class clinicians, this space not only provides medical services to the Hawks players but also serves as the team's official practice site.