Urban Design Guidelines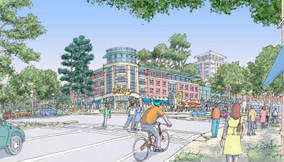 Public spaces help define a community. An attractive well-designed urban street is the result of a comprehensive design approach that balances the needs of pedestrians, bicyclists, and automobiles for safety, security, and aesthetics. With several key projects moving forward near Emory, and at other locations in the Clifton Community, the Clifton Community Partnership (CCP) has initiated a public process to guide community input into this new development. 
In November 2006, the CCP, Emory, and local community members embarked on a two-year project to lay the foundation for the key principles that should be incorporated into 10 main public corridors in the Clifton Community. 
Goody Clancy
, a nationally recognized urban design firm, worked with the CCP and local neighbors, shared its institutional knowledge, and led our community towards drafting core principles for the guidelines. 
The guidelines explore nontraditional strategies that set a model for other communities across metro Atlanta and the nation and lay the groundwork for an enduring legacy of benefits for the Clifton Community, including:
Fostering a cultural shift from an automobile-centered area into a walkable community.
Embracing a community-wide sense of commitment to environmental, cultural, and economic sustainability.
A vision shaped by preservation, restoration, change, and innovation alike.
Countless community meetings, weekend charettes, and public presentations later, the 
Urban Design Guidelines were completed
. 
Urban Design Guidelines: Ten Corridors of Distinction
The guidelines focus on 10 key corridors in the Clifton Community: 
Clifton/Sage Hill: 

This area could be transformed into a memorable gateway to the Clifton Community, anchored by a concentration of mixed-use development that generates traffic at lower speeds and takes maximum advantage of existing transit services such as Emory shuttles and MARTA. 

Clifton/Wesley Woods: Adding new plantings and a median, improving sidewalks, informational signage, and other measures that emphasize the presence of Wesley Woods are ways to improve this stretch of Clifton Road. 
Clifton/Hilltop: The Point development would include better sidewalks, a planted median, narrower travel lanes on Clifton Road together with proposed construction of new housing, street-front retail, and public open space opposite the Centers for Disease Control and Prevention (CDC) and would transform this area into an important pedestrian-oriented activity center. 
Clifton/Emory Health Sciences: The redevelopment of this area would make walking a first choice by adding street-level retail, adapting academic and research buildings to engage the street with more activity, and incorporating new trees and vegetation in planting strips and a median to reduce the dominance of paved roadways. 
Clifton Station: A new transit hub serving buses, plus reconfiguration of the Clifton Road/Haygood Drive intersection, could create welcoming pedestrian connections in multiple directions. Small retail and food-service shops in the transit station would serve many people passing through this gateway and help anchor a public plaza with views toward Lullwater Preserve. 
Clifton Emory Core: This stretch of Clifton Road could become one of America's signature boulevards, linking community and university. Key improvements include median and street tree plantings that diminish the presence of traffic, bike lanes, and sidewalks that appeal to a diverse community, with engaging campus buildings, neighborhood-oriented retail, and protection from vehicle traffic. 
Haygood/Druid Hills High School: Opportunities to rebuild Haygood Drive and some of the buildings along it offer a valuable chance for each institution to present a proud new face to the community and create a welcoming transition to neighbors, together creating a place of connection. 
Druid Hills/North Decatur: Creating a pair of paths along the north side of North Decatur Road that accommodates bicycles separately from pedestrians and buffers both from road traffic with new plantings. 
Clairmont/North Decatur: Thoughtful redevelopment of dated retail sites also includes the gradual transition of building size from district core to adjacent neighborhoods, ground floor retail, and other active uses to help bring public spaces to life. 
Clairmont/Lullwater: Narrower traffic lanes, a central median, and improved crossing signals would assist pedestrians with crossing the road and contribute to a sense of place and community. Emory's agreement to sidewalk improvements near Clairmont Road and Starvine Way and the planned parking deck on the Clairmont campus will assist with pedestrian connectivity and vehicular accessibility to Emory